…lack of knitting, that's what! (It's hard to not complain when you are not knitting!)…
Current progress on the sock (that I hadn't knit all week).
Allow me to explain…Friday and Saturday I work…little knitting happens on workdays, unless I knit in the wee hours of the morning. I try not to knit tired. Sunday, I packed for a quilt retreat, got the laundry done and planted plants with my Little, Mariah, and coached her on painting  the second coat….and studied…I was trying to be a good girl. Monday, I drove two hours north to one of the prettiest bridges in the world, the Mighty Mac…also known as the Mackinac (pronounced Mack-in-aw) Bridge, set up my sewing space, and proceeded to pull out my niece's quilt–because it just needed to get done. I also put in time to finish the current chapter I was reading for homework. Go Me, so I thought.
The view from our Hotel Window…it doesn't get much better than this…(For the record, Missing puppies and kitties and Dear James or not; NO, I didn't want to come home!)
Tuesday, I sewed and sew-cialized(socialized for those who need help with sewing puns), and cooked dinner in a new way. Dinner came out good. I even made enough progress to finally show the quilt at show and tell on Tuesday night. June(the leader of the group) told us to get our machines smokin' for the remainder of the night. My machine then took exception(it had been working on puttering through embroidery stitches much of the day), and required a few clean outs….I think I managed not to swear out loud. I also took the time to buy a pattern and some fabric to make it(and enough for leftovers as there was a sale).
(I missed these big guys…who are waiting patiently for a Kong(tm) treat.)
Wednesday, I got up too early after staying up late on Tuesday(our last night together) to sew on the charmed twister bag and got through the second side panel. Then I needed to play with "DecorBond" (brand name for really stiff interfacing). Then I remembered my inability to follow patterns, directions and rules in general. So I packed it up, and toured Mackinaw city for a bit, failed to find another fabric shop(which may have saved my budget, but I found puppy stuff–so maybe not). I came home wanting a nap, and to play with the new computer…except the new block of the month and chapter were out for my Murder Mystery Quilt 2017 hosted by Deborah Christy Moebes.  So, tried to install my printer…it didn't go well. After attempt number two, I gave up and went to my sister-in-law's for a bonfire with herself and my nieces. I probably should have gone to bed for a nap(but naps throw off my schedule and are tougher to pull off than they sound). I had a beer and took a breather.
I think they got more treats than we did(well, kind of….Zeus-y finally gets to catch a squirrel;-)…
And still, no knitting. I have little excuse too. I had it with me. When I was talking to my sewing friends, I could have pulled out my knitting at any time and added a row or two(the worst that would happen is I'd put the cables in the wrong places–nothing I haven't done before.
Briannag loves her Kong(tm) treat!
So, my excuseless self came home Wednesday night to finish the studying I should have done on Tuesday, and attempt the practice exam I had scheduled for today at 3:00PM. I did terrible on the practice exam, so I decided I'd better review some more, as I worked and hoped to sort out the financial aid to keep this stress loop going. (Mainly because I want to finish sooner than later). So far, the school cash flow looks only rocky for the next two years instead of like tough or insurmountable mountains I haven't yet learned how to climb.
Zeus-y loves his Kong(tm) treat too…
Alas, I got though the exam today (with an "A"), did not get to bring home the other computer as planned and decided that part of the problem this week was not enough knitting. So, I sat down tonight, and said studying can wait a bit(it was going to anyways), and decided to knit a few rows. Here's to the end of The first foot repeat and moving on to the second…we're getting there…just not as quickly as I'd like;-). In the meantime, I even remembered the lifeline…see;-)…
I even learned how to use "Backlighting" on my camera…we'll call that productive enough for today.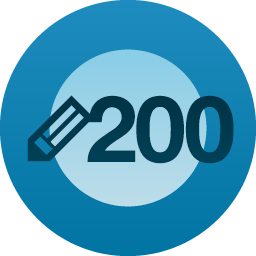 P.S. How exciting! Apparently this is post 200!