I don't know if I have the hookups…All the Mackinaw City photos are on my phone. I obtained a new phone Tuesday so I can talk to people I need to in the way they communicate. Apparently, email and text messaging are now outdated. Who knew? Alas, my batteries on my camera also died. So, I fortunately figured out how to take photos on my phone, almost right after I turned it on and figured out how to call with it. I realize calling is outdated too, but sometimes, you have to have a real, truly old-fashioned conversation. If you're lucky that will clarify things. Alas, there was some knitting.
The drained brook…reveals its secrets to creating a lovely stream…The little guy in the bottom right corner will be back in a moment.
Mostly before classes…progress has been made. I'm through the first repeat and nearly half-way through the second. I took these photos earlier this afternoon when I needed a break from studying, and found time to continue knitting this evening as I went to a poetry reading by Eva Christina Zeller. This may have been the most fascinating poetry reading ever, as she read her poems in German, and Mr. Robert Fanning, Associate Professor of Creative Writing and Poetry at Central Michigan University, read her poems in English. You can read more about Robert Fanning here.
Flowers holding onto life as I continue to knit warm socks…
Forgive me, if I start writing poetry about knitting, or quilting, or crutch club…but that's another class…and crutch club is soccer for kids who need crutches…It was begun at a camp like no other, Bay Cliff Health Camp, A Place Apart, where I have also knit. They can tell you about it far better than I can, though I've worked there twice and dream of going back to visit often…to work or play, I'm never sure. But I'm supposed to be here about the knitting. So I shall tell you of today's finds, and warn you the photos will be coming inside soon–there's a distinct chill in the air.
How cool is this…That special painted rock simply made my day…that and hearing some good poetry being read well. My day is complete.
Today, as I approached my bubbling brook to obtain an inspiring photo of my work, I noticed the brook had been drained. It was a bit disappointing, as it's a sure sign of freezing temperatures, yet it was neat to see the rock layers of the brook. As I took my photo with the flowers still holding on to life even in this chilly fall, I noticed a colorful structure on one of the other rocks and found some fun angles to take photos of my knitting there as well, once I realized the colorful structure was a fun painted rock. It so brightened my day to see this rock, and I simply decided I needed to pass this on to cheer up others who need it. Until next time, Happy Knitting!
But it's more expensive than I expected!
I had an unexpected turn of events last week. My quilt retreat roomies cancelled! For various reasons, they couldn't make it…most of them had good reasons…one couldn't get the days off work, pssshhh….she needs a new job. Another couldn't get time, but had had a rough year of illness. So I considered not coming, for half a second. Then I decided to ask for other roomies…
Shh…don't tell…this is tomorrow's challenge photo…
There's good news, and bad news…and that line is almost too tired to keep using.
My roomies cancelled last night. I didn't know until I got here…anyone want to come to Mackinac City for the weekend? You can knit all you want too…we'll tell them you're going to knit a quilt one day. Who cares if that's really called an afghan…wait…I have a ton of acrylic yarn around the house…and I feel an idea taking shape…I should have brought the newsprint.
Awesome color view of the Bridge at night…who doesn't want to see this view?
Alas…if you wish to join me, I'll clean off the second bed…the good news, I've got a room with two beds to myself…all to myself. No worries about roomies! I miss the roomies I'm used to. I'm missing the connection with them already. However, I'll just have to make some new friends and enjoy the weekend of sewing and knitting(and shh…I should do some homework, too–though I like to have homework done when I get here). But back to it…
Psst…don't tell…I didn't mind knitting the 2×2 rib stitch…
I've been working on the Hat Gray Fields by Tatiana Rovenskaya this week. I've made it to the increase row…which took an extra hour or two of translating from Russian to English…because she was specific. It made sense, once I worked around the translation, but I'm glad I looked it more than once. I thought I was supposed to purl around. Instead…I was supposed to add a stitch every ten or eleven stitches, but between the ribs, not in the middle…(I hope). It's done…I've begun the pattern.
Current Knitting Progress…literally…
The photo here is a rare mid row photo…I'm getting better at checking where I'm at, and well…I was interrupted during the second repeat of the chart (which is just a wee bit complicated), and it was before class when I reminded of a quiz which I'd totally forgotten. Thankfully, it was an easy quiz, but sometime later I'll have to finish off this row(in the midst of quilting) and learn this pattern before it returns to public.
Knitting while waiting for friends…including my chicken scratch translation of this pattern…wish me luck…
I've been a wee bit naughty with the second sock of the Slip-N-Slide pattern, as I haven't cast it on yet. I've been focused on this hat, and I should get to the cast on of this sock this weekend, as I can take that to my nieces band concert(which I should simply ink in for the next five years(I think) that it's right after this quilt retreat every time). Wish me luck arriving on time…must leave by noon on Sunday;-)…drat! (With the price I'm paying…I should get a free day! Who can join me?)
…lack of knitting, that's what! (It's hard to not complain when you are not knitting!)…
Current progress on the sock (that I hadn't knit all week).
Allow me to explain…Friday and Saturday I work…little knitting happens on workdays, unless I knit in the wee hours of the morning. I try not to knit tired. Sunday, I packed for a quilt retreat, got the laundry done and planted plants with my Little, Mariah, and coached her on painting  the second coat….and studied…I was trying to be a good girl. Monday, I drove two hours north to one of the prettiest bridges in the world, the Mighty Mac…also known as the Mackinac (pronounced Mack-in-aw) Bridge, set up my sewing space, and proceeded to pull out my niece's quilt–because it just needed to get done. I also put in time to finish the current chapter I was reading for homework. Go Me, so I thought.
The view from our Hotel Window…it doesn't get much better than this…(For the record, Missing puppies and kitties and Dear James or not; NO, I didn't want to come home!)
Tuesday, I sewed and sew-cialized(socialized for those who need help with sewing puns), and cooked dinner in a new way. Dinner came out good. I even made enough progress to finally show the quilt at show and tell on Tuesday night. June(the leader of the group) told us to get our machines smokin' for the remainder of the night. My machine then took exception(it had been working on puttering through embroidery stitches much of the day), and required a few clean outs….I think I managed not to swear out loud. I also took the time to buy a pattern and some fabric to make it(and enough for leftovers as there was a sale).
(I missed these big guys…who are waiting patiently for a Kong(tm) treat.)
Wednesday, I got up too early after staying up late on Tuesday(our last night together) to sew on the charmed twister bag and got through the second side panel. Then I needed to play with "DecorBond" (brand name for really stiff interfacing). Then I remembered my inability to follow patterns, directions and rules in general. So I packed it up, and toured Mackinaw city for a bit, failed to find another fabric shop(which may have saved my budget, but I found puppy stuff–so maybe not). I came home wanting a nap, and to play with the new computer…except the new block of the month and chapter were out for my Murder Mystery Quilt 2017 hosted by Deborah Christy Moebes.  So, tried to install my printer…it didn't go well. After attempt number two, I gave up and went to my sister-in-law's for a bonfire with herself and my nieces. I probably should have gone to bed for a nap(but naps throw off my schedule and are tougher to pull off than they sound). I had a beer and took a breather.
I think they got more treats than we did(well, kind of….Zeus-y finally gets to catch a squirrel;-)…
And still, no knitting. I have little excuse too. I had it with me. When I was talking to my sewing friends, I could have pulled out my knitting at any time and added a row or two(the worst that would happen is I'd put the cables in the wrong places–nothing I haven't done before.
Briannag loves her Kong(tm) treat!
So, my excuseless self came home Wednesday night to finish the studying I should have done on Tuesday, and attempt the practice exam I had scheduled for today at 3:00PM. I did terrible on the practice exam, so I decided I'd better review some more, as I worked and hoped to sort out the financial aid to keep this stress loop going. (Mainly because I want to finish sooner than later). So far, the school cash flow looks only rocky for the next two years instead of like tough or insurmountable mountains I haven't yet learned how to climb.
Zeus-y loves his Kong(tm) treat too…
Alas, I got though the exam today (with an "A"), did not get to bring home the other computer as planned and decided that part of the problem this week was not enough knitting. So, I sat down tonight, and said studying can wait a bit(it was going to anyways), and decided to knit a few rows. Here's to the end of The first foot repeat and moving on to the second…we're getting there…just not as quickly as I'd like;-). In the meantime, I even remembered the lifeline…see;-)…
I even learned how to use "Backlighting" on my camera…we'll call that productive enough for today.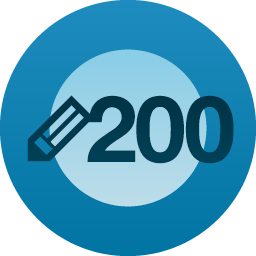 P.S. How exciting! Apparently this is post 200!